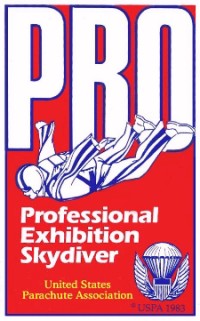 DRAW A CROWD TO YOUR EVENT WITH THE EXCITEMENT OF A SKYDIVING EXHIBITION!
An Airtight exhibition or demonstration parachute jump is a skydive performed primarily for the enjoyment of spectators–at a sporting event, a mall opening, a convention–a site other than an established dropzone.
A properly staged exhibition jump can be a dramatic form of promotion for any special event or product. These jumps are performed routinely every year for professional sporting events, corporate social occasions, political and charitable fund raising events, high school football games, and at many other public and private affairs.
First inspect the site that you would like us to land and make sure that it meets our requirements of at least 5000 square feet open area, and allow the jumper to fly under canopy no lower than 50 feet above the crowd and land no closer than 15 feet from the crowd line. If you believe that your landing zone is acceptable, call us at 918-396-7855 and let us know about your event and check to see if we have the date and time that you desire available.